As with many other things, this year's Thomas Toast is going to be different. On Thursday, January 28th, the Feast of St. Thomas Aquinas, please join us at 6:00pm over zoom for a panel of Thomas testimonies, including one from Prof. Nikolaj Zunic, St. Jerome's University. The testimonies will be followed by questions and further discussion. Whether you have studied the breadth of his Summa, or whether you feel lacking in your knowledge of one of the Church's greatest intellectuals, you are sure to learn something about Thomas' life and work. You could call this event Aquinas 101.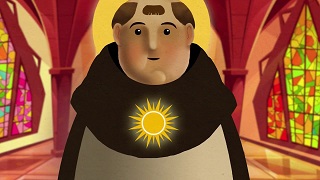 The only requirement is that you pour your own glass and be ready to toast Thomas by the end of the evening. Here are the zoom details:
https://us02web.zoom.us/j/89165734338?pwd=S1kzTXFqdkx3R3d6ZFZ0eTBOVXBVdz09
Meeting ID: 891 6573 4338
Passcode: 257619
In preparation for the event, I invite you to watch this humorous video:
iLumen – The Other Less-known Sides of St. Thomas Aquinas
Hope to see you there!
Fr. Mark Morley

This work, unless otherwise expressly stated, is licensed under a Creative Commons Attribution-NonCommercial-NoDerivs 3.0 Unported License.