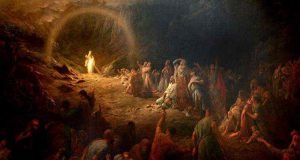 You are invited to a study day on David Bentley Hart's book "That All Shall Be Saved: Heaven, Hell, and Universal Salvation" and his controversial proposal that Hell will be empty. There will be panelists presenting arguments and opportunities for group discussion. Saturday, September 19th, 2020 – 9:30 am to 12:30 pm, St. Michael's Church, Basement Hall, 80 University Avenue West, Waterloo.
We will be following public health protocols. Separate tables for each social circle. Please bring your own snacks and refreshments. Or attend online:
https://us02web.zoom.us/j/82817065508?pwd=OHpVRUhZNVR1cFFJcjZXZnM0dW9WUT09
Meeting ID: 828 1706 5508
Passcode: 775035
Here is the schedule for the day (join us anytime):
9:30 Welcome and Prayer (Fr. Mark Morley)
9:45 Introduction to Hart (Dr. Kyle Gingerich Hiebert)
10:00 The argument of the book and responses plus discussion (Dcn. Charles Fernandes)
10:45 Hart's intellectualist argument, pastoral concerns and the early Church plus discussion (Dr. Norm Klassen)
11:30 BREAK
11:45 Recap: discussion of main points and emerging questions
12:30 END
Here are links to a series of articles written by Hart entitled "an Interim Report on That All Shall Be Saved": Part 1, Part 2, Part 3, and Part 4.
And you can find more information about a small book entitled "The Doors of the Sea: Where Was God in the Tsunami?" that Hart wrote on the related topic of suffering here.
If you would like to read the book in advance, you can order it here:


This work, unless otherwise expressly stated, is licensed under a Creative Commons Attribution-NonCommercial-NoDerivs 3.0 Unported License.