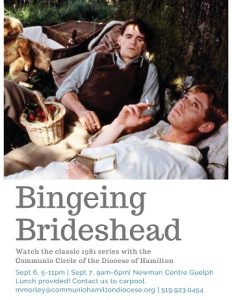 On the evening of Friday, September 6th and during the day of Saturday, September 7th we will be watching the entire 1981 British television serial Brideshead Revisited at the Newman Centre Guelph, 325 Gordon Street, Guelph, Ontario. Here is the schedule for the weekend:
Friday, September 6th
Doors open at 5:00pm
6:00pm
1. "Et in Arcadia Ego"
2. "Home and Abroad" (30 minute break)
3. "The Bleak Light of Day"
4. "Sebastian Against the World"
11:00pm End
Saturday, September 7th
Doors open at 8:30am
9:00am
5. "A Blow Upon a Bruise"
6. "Julia" (10 minute break)
7. "The Unseen Hook"
12:00pm Lunch Provided
12:45pm
8. "Brideshead Deserted"
9. "Orphans of the Storm"
10. "A Twitch Upon the Thread" (30 minute break)
11. "Brideshead Revisited"
5:30pm End
Dinner at a local venue (TBD)
Come and join us for all or as many episodes as you can!
Fr. Mark Morley

This work, unless otherwise expressly stated, is licensed under a Creative Commons Attribution-NonCommercial-NoDerivs 3.0 Unported License.